Our common aim is to bring our trade exchange to 1 billion USD shortly
"Even if the two-way trade volume has until now failed to reach its potential and meet our expectations, it is expanding year after year. Our common aim is to bring our trade exchange to 1 billion USD shortly," said Mr. Jamale Chouaibi, the Ambassador of Morocco to Vietnam in an interview with the Communist Party of Vietnam Online Newspaper.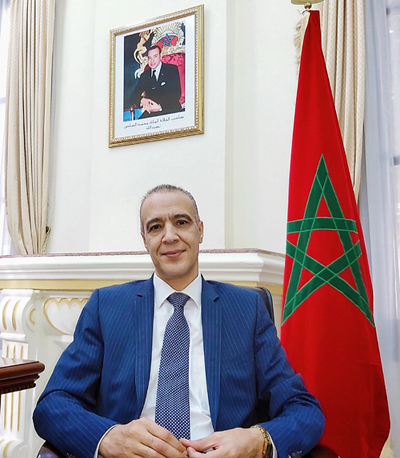 Mr. Jamale Chouaibi, the Ambassador of Morocco to Vietnam. (Photo: Le Mai)
Reporter: First of all, congratulations on your tenure in Vietnam! Could you share your initial feelings about the country and people of Vietnam?
Mr. Jamale Chouaibi: My first impressions are very positive. I came to realize since my arrival last July to Hanoi that the Vietnamese are very friendly to foreigners, hospitable and open minded. They are hardworking and have cute entrepreneurial skills. Just like in Morocco they value family, solidarity and have respect for elders. Besides, the Vietnamese parents invest a lot in their children education to guarantee a better and brighter future for them.
I am quite impressed by the scale and depth of the transformation Vietnam is undergoing presently. Vietnam is nowadays a booming economy with a rapid and outstanding growth of the GDP which has been achieved in quite a short time boosting it on the right track to become an emerging country.
The reforms undergone by your Government are starting to bear fruits. Huge investments are attracted under Doi Moi. It's truly a land of opportunity for both domestic and international business. Vietnam is now among the largest exporters of clothing and electronics worldwide.
These reforms transformed Vietnam to a middle income country, reduced poverty in a significant way and allowed the emerging of a middle class which accounts for nearly a quarter of the population. This means that the economic growth was fairly inclusive in Vietnam.
Moreover, Vietnam economic openness and its signing of new generation FTAs with several countries and regional groupings will further boost its competitiveness, make it embark on higher value added production and turn it into a major hub for foreign businesses.
Reporter: Could you please tell us about the activities of the Moroccan Embassy in Hanoi in the near future to promote cooperation in economics, trade, investment, culture and tourism between the two countries?
Mr. Jamale Chouaibi: I should underline at the outset that there is a strong political will from both sides to further enhance and expand their bilateral partnership. This is evidenced by the increasing number of high level visits exchanged between the two countries over the last two years and the increasing number of agreements signed between the two countries encompassing a wide range of sectors such as trade and investment, energy and mining, banking, education and training, Air services in addition to MoUs between several universities and cities of both countries.
Even if the two-way trade volume has until now failed to reach its potential and meet our expectations, it is expanding year after year. Our common aim is to bring our trade exchange to 1 billion USD shortly. This can be achieved by speeding up the establishment of adequate mechanisms such as the creation of a Joint Business Council and follow up committees that will ensure the rapid implementation of different provisions contained in different sectorial Agreements and MoUs.
By adopting a new approach favoring direct interaction between the Vietnamese and Moroccan economic stakeholders we will be able to attain more substantial results in terms of trade exchange.
Another priority is to facilitate and encourage the establishment of joint ventures that will boost and give a new impetus to our economic partnership mainly between leading corporations in each country such as OCP Group, a global leader in the phosphate industry, and Petro Vietnam Fertilizers and chemical Corporation.
The focus will be also put on the organization of Business Fora and the promotion of tourism and cultural exchanges between the two countries with the aim to foster mutual understanding as well as a growth and diversification of bilateral trade.
We intend in this regard to organize trips to Morocco for Vietnamese tour operators to discover the highlights of Morocco in touristic cities with the objective of better marketizing Morocco in the Vietnamese travel market.
People to people exchange will constitute another priority for our action. We will see to the implementation of several MoUs that were signed between major cities in both countries (Tangiers and Da Nang) as well as between Universities ( Mohammed V and National University of Vietnam) and academic Institutes (Centre d'Etudes et de Recherches en Sciences Sociales (CERSS) and the Institute of Africa and Middle East Studies (IAMES).
Mr. Jamale Chouaibi, the Ambassador of Morocco to Vietnam, presents Letter of Credence to Mr. Nguyen Phu Trong, President of Socialist Republic of Vietnam. (Source: VNA)
Reporter: In order to to strengthen the friendship and cooperation between Vietnam and Morocco, what areas do you think the two countries should focus on?
Mr. Jamale Chouaibi: Morocco and Vietnam share a lot of similarities namely their geostrategic position respectively as entry gates to Africa and Europe and to South-East Asia, their political stability, their dynamic emerging economies, their sustained economic growth and their policies of diversification of trade partners and of human resources capacity strengthening favoring further cooperation and coordination in the future.
The focus should be on enhancing cooperation, partnership and exchange of experiences and expertise in each country's domains of excellence where they enjoy competitive advantage, such as manufacturing, agriculture, tourism, renewable energy and establishment of joint ventures.
Given the importance attached by the Vietnamese Government to the development of its economic cooperation with Africa, Morocco can serve as a bridge between Vietnam and this continent.
Morocco, under the Guidance of His Majesty the King and His numerous initiatives towards Africa, stands out today as the 1st investor in West Africa and the 2nd investor at the continental level.
Morocco today enjoys a substantial multiform presence in Africa in vital sectors such as banking, insurance, energy, telecommunications, etc.
Also, Morocco undertakes various partnerships and capacity development actions in priority areas such as water, sanitation, customs, airports management, etc.
Given these success stories, and the experience accumulated by Morocco over several years as a reliable partner in Africa, Morocco and Vietnam can work together in this promising Continent, including trough joint-ventures projects, trilateral technical and economic cooperation, just like the current initiatives carried out by Morocco with other Asian countries such as Japan, China and South Korea.
Reporter: As the first African and Arab country joining the Mekong River Commission (MRC) as a partner, which solutions and actions did Morocco advise be taken to manage the Mekong Basin sustainably?
Mr. Jamale Chouaibi: Morocco was the first African and Arab country to have had the privilege to join the MRC as a partner. It is a part of our ongoing foreign policy strategy, under the guidance of His Majesty the King aiming at diversifying our partners and enhancing South -South Cooperation which is at the forefront of our priorities.
By joining the MRC, Morocco shows his willingness and commitment to partake in the joint efforts striving for the achievement of the sustainable goals of the Mekong basin.
A Memorandum of Understanding has been signed between Morocco and MRC in 2017 to expand exchange and cooperation between the two parties in a variety of fields ranging from energy, to irrigated agriculture, food security, water quality and environment.
A delegation from Mekong Commission undertook a visit to Morocco and held fruitful discussions with several Ministerial Departments and visited several sites relating to water treatment and irrigation, the end goal was to identify techniques applicable to Mekong Basin in terms of water efficiency for irrigation such as the use of drip irrigation system.
Following this visit, an action plan has been set up to initiate a partnership that will foster exchanges and cooperation in water resource development, ecotourism and renewable energy which constitute a major priority for this region.
Many actions are to be undertaken in future pertaining to the organization of short term vocational training programs for the benefit of irrigation practitioners on the banks of Mekong river, providing technical assistance for the development of projects in solar and wind energy and ecotourism.
Reporter: Morocco joined the Treaty of Amity and Cooperation of ASEAN (TAC) in 2016. What activities do you expect to carry out as Vietnam takes over the rotating Chairmanship of ASEAN in 2020?
Mr. Jamale Chouaibi: As you know Morocco signed the instruments of its accession to the Treaty in 2016. The principles of TAC are in full conformity with Morocco's policy namely noninterference in domestic affairs and peaceful settlement of disputes through dialogue and diplomatic means. Moreover, Morocco has always sought to diversify its partners and reinforce its partnerships at all levels beyond traditional partners. To develop closer ties with ASEAN countries, stand out today as a priority for Morocco which values South South cooperation.
A signal that Morocco is seeking to build stronger relations with southeast Asia is substantiated by the submission of its candidacy to become ASEAN's Sectorial Dialogue partner in 2018. This will open up new horizons for substantial and more qualitative cooperation with this integrated economic community in areas falling within ASEAN's community goals comprising the three fundamental pillars namely political and security community, economic community and socio-cultural community that are closely interconnected.
An ambitious Action Plan has been submitted by Morocco pertaining to the Three aforementioned priority areas.
PV