Border guard mission inspects Lao Cai's prevention of nCoV
A mission of the Border Guard Command, led by Deputy Commander Major General Bui Duc Hanh, worked with the Lao Cai provincial Border Guard Command on the prevention of noval virus Corona (nCoV) on January 31.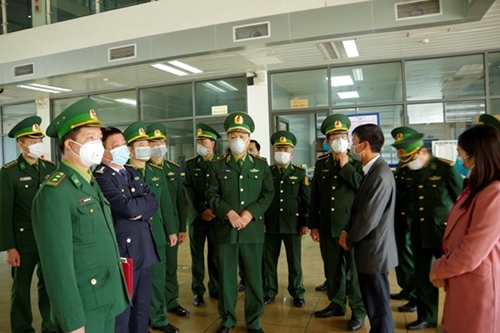 The mission inspect a border gate in the province
Speaking at the event, General Hanh highly appreciated the unit's efforts in coping with the acute respiratory disease caused by the novel coronavirus. He asked the unit to strictly implement the directives of higher levels, including strictly controlling cross-border trails, managing border areas, and strictly following immigration procedures at border gates.
The provincial Border Guard Command should also advise the provincial People's Committee to cancel or postpone festivals in border areas to prevent the spread of nCoV while cooperating with other agencies and units at all levels in equipping local people with preventive methods and raising their awareness of nCoV prevention. In addition, the unit should pay attention to the health of troops who are carrying out mission at border gates.
Earlier, a mission from the Border Guard Command also checked the prevention of acute respiratory disease caused by nCoV at some border gates and border areas in the province.
Over the past time, border posts in the province have worked with the local leadership to disseminate information relating to the prevention of the disease, updated nCov-related information with China's border management forces, and made timely recommendations to the provincial People's Committee on methods to prevent illegal immigration and the spread of the disease.
Translated by Tran Hoai
Source: EN.QDND