Ministry of National Defense reviews task implementation in October
In the coming time, the Party committees and the chains-of-command of military units should strictly maintain combat readiness regulations, closely follow situational developments, and foster ideological education to orient troops' and the public's thought.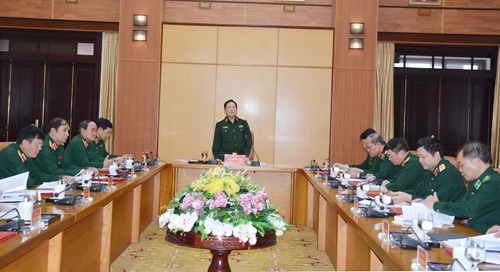 At the conference
The request was made by Defense Minister General Ngo Xuan Lich while chairing the Ministry of National Defense's conference on October 28 to review the outcomes of military and defense missions in October and roll out tasks for November.
Reports at the event said that military agencies and units have comprehensively fulfilled all missions set for October. Notably, they strictly maintained combat readiness and actively made recommendations for the Party and State to deal with arising situations in a timely and effective manner. Military agencies and units also paid attention to force building, training, and field training exercises, while actively combating wrongful viewpoints to protect the ideological foundation of the Party in the military.
In addition, the defense external relations have been effectively carried out by military agencies and units. They also successfully conducted search and rescue and natural disaster relief missions and held activities to mark the 70th anniversary of the Vietnamese volunteer soldiers and advisors in Laos (October 30, 1949 - 2019).
Praising the achievements of the military units over the past time, General Lich asked them to organize activities to mark the 30th anniversary of the whole people's festive day and the 75th founding anniversary of the Vietnam People's Army. General Lich also urged the units to make preparation for the upcoming Party congresses and promote the implementation of policies for troops.
He added that agencies and units in the military should focus their leadership on the organization of training, contests, festivals, and field training exercises in line with scheduled programs as well as promoting bilateral and multilateral defense external activities, especially the preparation for the deployment of the Level-two Field Hospital Rotation 2 to South Sudan.
qdnd.vn
Duy Đạt