No end point in building new-style countryside
Prime Minister Nguyen Xuan Phuc highlighted that there is no such thing as the end for the building new-style rural areas programme while addressing a national conference held in the northern province of Nam Dinh on October 19.
In his speech, the Government leader affirmed that the programme, carried out since 2010, has made historic breakthroughs, giving a facelift to rural areas across Vietnam, raising the stature of farmers, considerably improving their lives, and continuing to restructure agriculture in a modern and sustainable manner.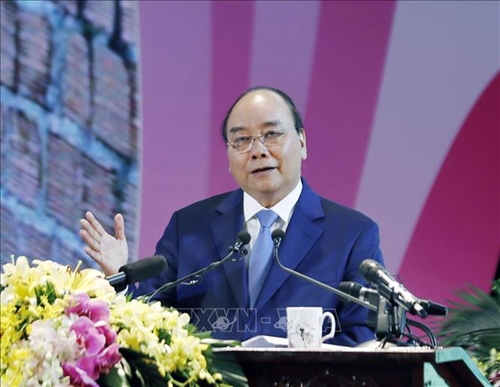 Prime Minister Nguyen Xuan Phuc delivers a speech at the event

He attributed its success largely to people's contributions, adding that tens of thousands of kilometres of rural roads have been constructed without any pennies spent thanks to locals' donation of their land, money and work.Over the last more than nine years, this programme has successfully capitalised on the combined strength of the political system and the people, he noted.
However, PM Phuc also pointed out shortcomings of the programme and suggested solutions.
He stressed that all localities must not be complacent about what they have achieved, but have the consistent viewpoint that building new-style rural areas is just the beginning and it doesn't have an end point.
The PM also requested localities nationwide to launch an emulation movement on building new-style countryside for 2021 – 2025.
According to Minister of Agriculture and Rural Development Nguyen Xuan Cuong, the programme has helped turn many rural areas into good places for live.
Data show that the new-style countryside building target has been reached almost two years ahead of schedule. As of October 2019, 4,665 communes or 52.4 percent of the total nationwide have been recognised as new-style rural areas, 2.4 percent higher than the target set for 2020. Among them, 63 communes have satisfied advanced criteria.
Eight provinces and centrally-run cities have had all of their communes winning the recognition, namely the provinces of Nam Dinh, Ha Nam, Hung Yen, Thai Binh, Dong Nai and Binh Duong, and the cities of Da Nang and Can Tho.
Meanwhile, 109 district-level localities in 41 provinces and cities have gained the title.
In particular, with all of their communes and district-level localities meeting all criteria, Dong Nai and Nam Dinh have completed the task.
The annual per capita income in rural regions rose three-fold, from 12.8 million VND (over 550 USD at the current exchange rate) in 2010 to 35.9 million VND in 2018. The income gap between rural and urban areas also dropped from 2.1 times to 1.8 times during the period. The household poverty rate in those areas has also declined sharply, about 1.5 percent each year on average, to 7.38 percent now.
Rural socio-economic infrastructure has been improved considerably, thus gradually meeting people' daily and production needs and keeping up with local development demand. After more than nine years, over 206,740km of rural roads have been constructed or upgraded across the country. Cultural and social aspects have also received more attention.
en.qdnd.vn
Duy Đạt