Problems in PPP projects still waiting to be solved
There are still shortcomings in the implementation of public-private partnership (PPP) projects, which need to be resolved promptly and thoroughly, in order to show the attention and support from the State, and create an equal investment environment.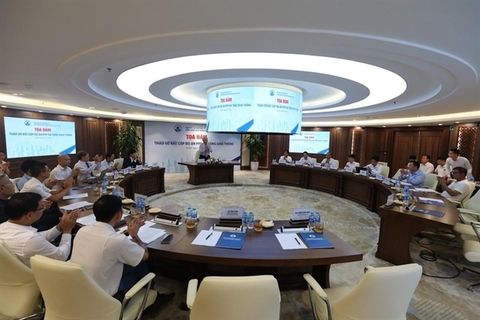 VARSI held a seminar on removing inadequacies of PPP transport infrastructure projects in Ha Noi on Monday. — Photo nhandan.vn
The Vietnamese Association of Road Systems Investors (VARSI) held a seminar on removing inadequacies of PPP transport infrastructure projects in Ha Noi on Monday.
Speaking at the seminar, Tran Chung, President of VARSI, emphasised that transport infrastructure projects invested in the PPP method have played an important role in the country's socio-economic development.
The Government set a target that Viet Nam will have 5,000 km of highways by 2030.
Thus, the overall picture of the field of road transport infrastructure has a very large space, opening up many development opportunities for investment in traffic projects under the PPP method, he added.
The National Assembly (NA) and Government have made many policies to attract social resources and create confidence for private investors to participate in PPP projects.
Chung also said that in the context of the ongoing public debt crisis in developing countries, investment in the PPP form was an effective solution to develop the country, while reducing government guarantees and risks of increasing public debt.
However, the problems over the years had been waiting for the State agencies to "remove" and push investors while financial difficulties were becoming more and more prominent, he added.
Acknowledging the shortcomings that need to be removed in PPP projects, Nguyen Van Khang, Chairman of the Board of Directors of National Highway 91 Investment Joint Stock Company, said that the reduction of prices for vehicles near the station, suspension of toll collection due to the COVID-19 pandemic, and the absence of fee increases according to the signed schedule has had a significant impact on the financial performance of the BOT project.
Le Minh Nghia, director of Phu Ha BOT Co., Ltd, suggested that with the current revenue stream, the project enterprise could not build a financial plan to pay back and could not determine the payback period for the project, the longer the project operated, the more investors lose without financial resources to make up for it.
Without the sharing, support and mechanisms to remove difficulties from the NA, the Government and ministries and branches for the project, investors and project enterprises could not continue to maintain toll collection and road maintenance and would be unable to fulfil obligations to banks and had to face the risk of bankruptcy, he said.
Therefore, the investor proposed the NA, the Government and the Ministry of Transport allow the termination of the project contract before signing.
VARSI President said that opinions at the seminar were the basis for the association's recommendations to the Government, ministries and branches to not only rescue stuck projects and save investors, but also create confidence to strongly mobilise social resources to participate in PPP investment, especially with national key projects and many important local projects. — VNS
Source: Bizhub