Quang Ngai exhibition proves Vietnam's sovereignty over Hoang Sa, Truong Sa
An exhibition, entitled "Vietnam's Hoang Sa, Truong Sa: historic and legal evidence," opened in the central province of Quang Ngai on November 22.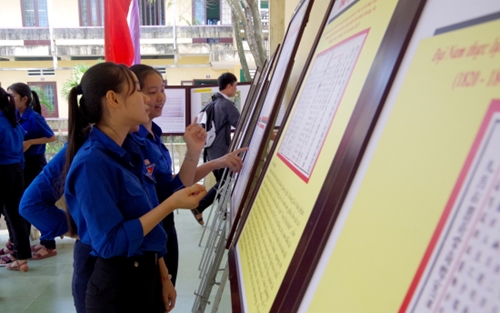 Youths at the exhibition (Photo: bienphong.com.vn)
On display are 30 ancient maps, bibliographies, and royal documents which are historic and legal evidence proving Vietnam's sovereignty over Hoang Sa (Paracel) and Truong Sa (Spratly) islands.
The exhibition also showcases 20 images of Quang Ngai's seas and islands.
A 3D illustration on the same theme is also screened to raise public awareness and their sense of responsibility for safeguarding the country's sovereignty over seas and islands, thus helping affirm Vietnam's sovereignty over the two archipelagos.
The event will last till November 26.
Source: VNA
Đoàn Nguyễn