Sun Group launches a series of great-value combos at Phu Quoc pearl island
With a luxury resort and world-class entertainment, Sun Group's 2S combo offers a diverse and exciting experience in Phu Quoc at a reasonable price.
Full package of entertainment, resort, and unforgettable experiences from just 1.97 million
For only VND1.97 million per night, visitors can get the "Kiss The Stars" combo, including a stay at the Premier Residences Phú Quốc Emerald Bay (Kem Beach), with its magnificent Sunset Town. This is just one of the fantastic offers by Sun Group to give you a weekend to remember while exploring Phú Quốc island.
Premier Residences Phu Quoc Emerald Bay
In addition to Premier Residences, the program also applies to other resorts of Sun Group in the South of Phú Quốc. By buying a combo at New World Phú Quốc Resort, you will stay in a resort villa with a private swimming pool, receive a ticket to experience Sun World Hon Thom with the world's longest 3-wire cable car, and a ticket for the Kiss The Stars show, as well as airport pickup and drop off.
In addition to the show tickets, Premier Village Phú Quốc Resort offers a 10% discount on room rates for Accor Plus members. JW Marriott Phú Quốc Emerald Bay also offers one free lunch at Tempus Fugit when tourists book The JW Symphony package.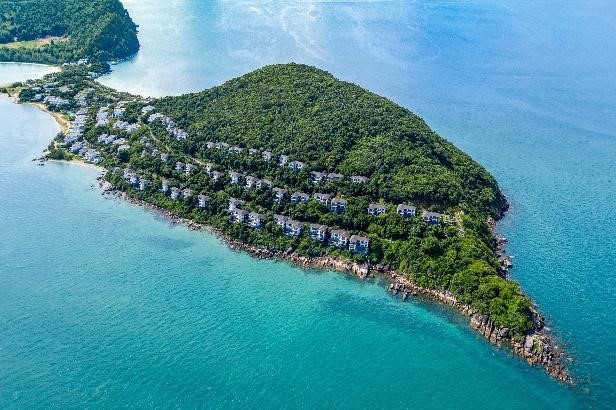 Premier Village Phu Quoc at Ong Doi cape
When staying in the South of the Island, guests leave behind the noise and hustle to enjoy the expansive skies and blue sea. Your vacation will be perfect when combined with the ultimate resort experience with the entertainment in the Sun World park system and watching the classy Kiss The Stars multimedia show at the centre of Sunset Town. All this will fill your vacation with valuable private experiences.
Three reasons why we "can't miss Phú Quốc" on this occasion
Phú Quốc comes first to mind when choosing a resort paradise in Việt Nam. In particular, the focus must be on the South of the island, where there is a collection of famous resorts such as JW Marriott Phú Quốc, Emerald Bay, Premier Residences, New World, and more. Each resort will have a different style, meeting all tastes of guests.
Luxurious space inside the villa at New World Phú Quốc Resort.
While the New World Phú Quốc Resort attracts guests with its rusticity and quiet charm, JW Marriott Phú Quốc Emerald Bay overwhelms with its luxury. The Premier Residences brings a youthful puzzle to Kem Beach. Moreover, Premier Village Phú Quốc Resort at Ong Doi Cape appeals to visitors due to its prime location that lets you watch both the sunrise and sunset.
But Phú Quốc is not only for luxury resorts. This place has no shortage of entertainment to make guests forget their way home. Sun World Hon Thom Park has exciting games, the region's top modern Aquatopia water park, beautiful beaches at Hon Thom Paradise, and so many things to discover in Sunset Town.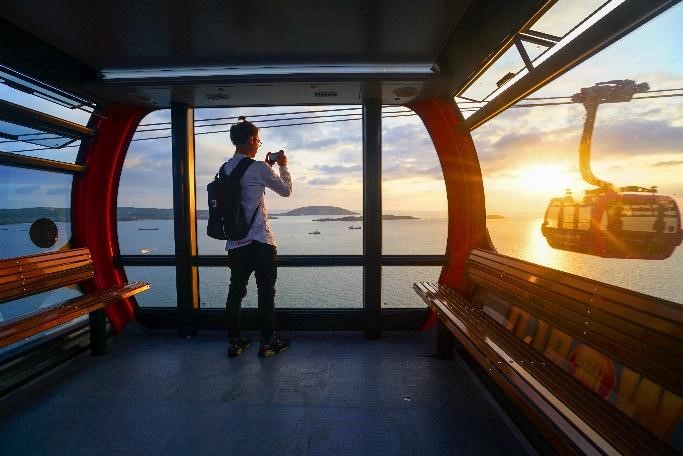 Experiencing the world's longest 3-wire cable car at Sun World Hon Thom
Similar to a miniature Mediterranean town in Phú Quốc, Sunset Town gathers nearly 50 iconic works such as the Kissing Bridge, An Thoi cable car station, the Clock Tower, the Central Village, the Fountain of Sun God, murals, and countless other check-in experiences.
To top off your day, visiting the Kiss The Stars show will make your journey to Pearl Island more perfect. After its launch, the Kiss The Stars show has quickly been added to the list of unique experiences for tourists to Phú Quốc. The show's attraction comes from the majestic stage and modern sound and light performance technology that appeared for the first time in Việt Nam. In particular, at the end of each daily show (except Tuesday), tourists will be treated to a spectacular fireworks performance like a painting in the sky of Pearl Island.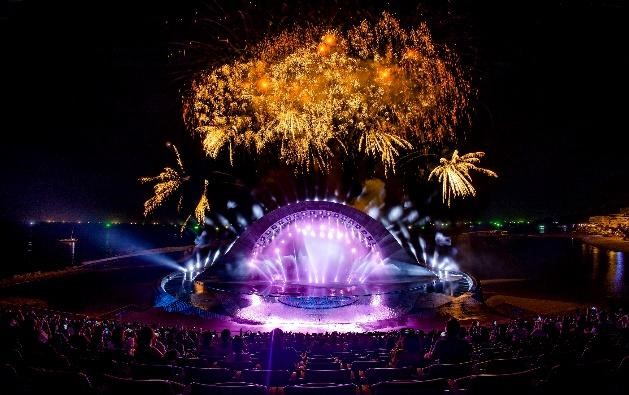 Fireworks at the Kiss The Stars show, Sunset Town.
All the experiences in the South of the island in 2S combos include resorts and entertainment, a cooperation handshake of Sun Hospitality Group and Sun World - two brands of Sun Group that provide guests unforgettable memories in the only island city of Việt Nam.
T.Huyền