The rise of Vietnam's Paradise Island
In recent years, Phu Quoc has emerged as one of the most talked about destinations for travelers from all around the world, thanks to its breathtaking natural beauty, iconic landmarks, and unparalleled luxury travel experiences.
Sleeping beauty
Once a sleepy fishing island with minimal tourism developments, Phu Quoc has rapidly become one of the fastest-growing and most acclaimed destinations in global tourism.
Its remarkable rise has caught the attention of the world's media. The tear-drop shaped island – located off the southern coast of Vietnam in the gulf of Thailand – has been lauded by some of the world's most prestigious travel magazines and industry observers in recent years.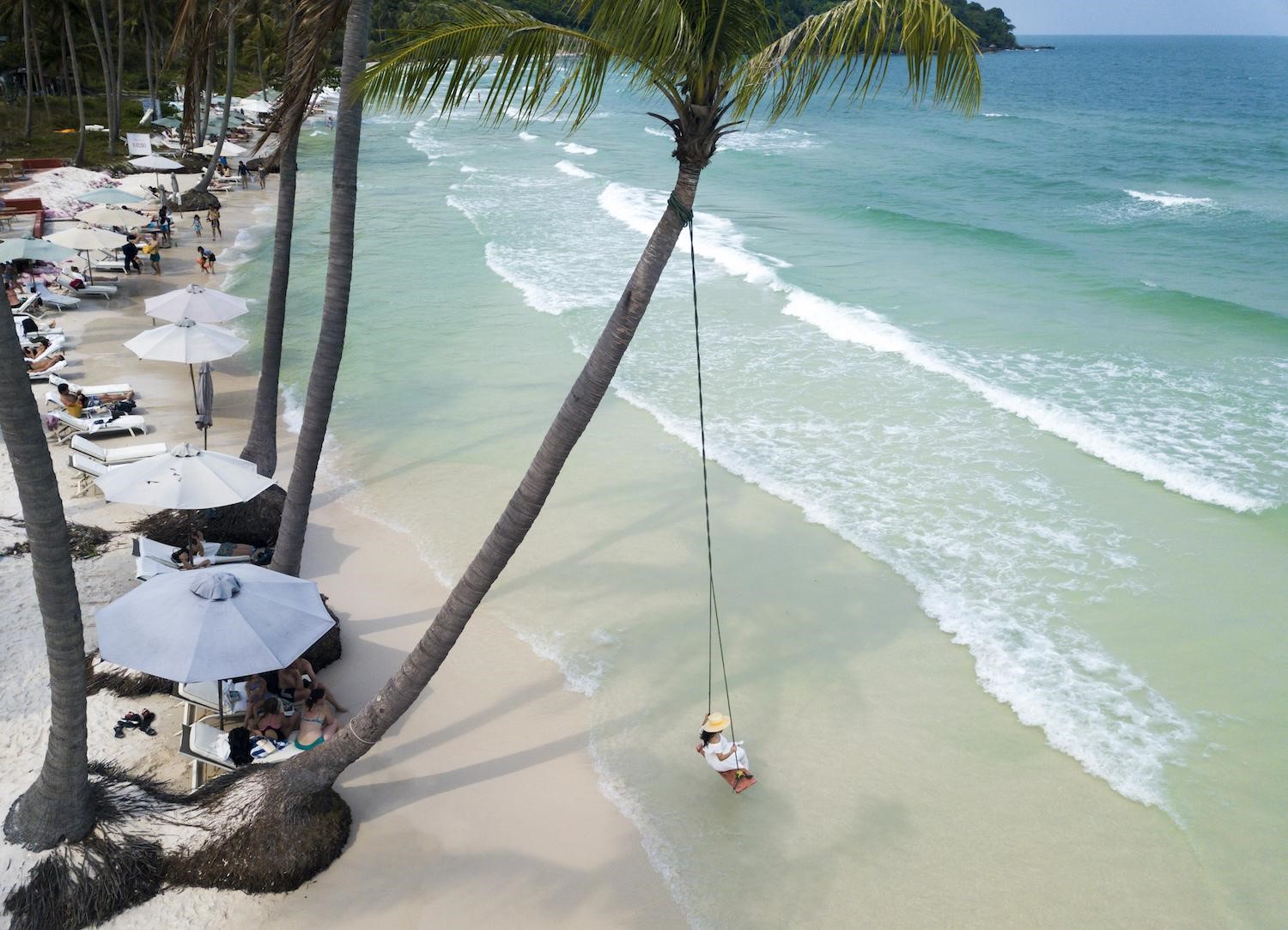 Hon Thom Island.
In 2021, Time Magazine honoured Phu Quoc as one of the 'World's Greatest Places'. In October 2022, Conde Nast Traveller voted the 'pearl island' – as it's known in Vietnam – as one of "Asia's 10 Most Favorite Resort Islands'. The destination was the only representative of Vietnam in the category of 25 Best Islands in the world, as chosen by Travel + Leisure. In November, 2022, Phu Quoc was named the 'World's Most Attractive Natural Island' at the World Travel Awards, surpassing six other world-renowned islands.
With a rare tropical beauty, Phu Quoc had often been compared with long-established island paradises such as the Maldives, Phuket (Thailand) and Bali (Indonesia). But the pearl island — actually part of archipelago – has its own distinctive ecology with 28 large and small islands, 150 km of coastline, and 14 diverse beaches, many of which have been ranked amongst the most beautiful on the planet. Adding to the island's appeal is its mild climate with warm sunshine all year round, making Phu Quoc ideal for travel and relaxation at any time of the year.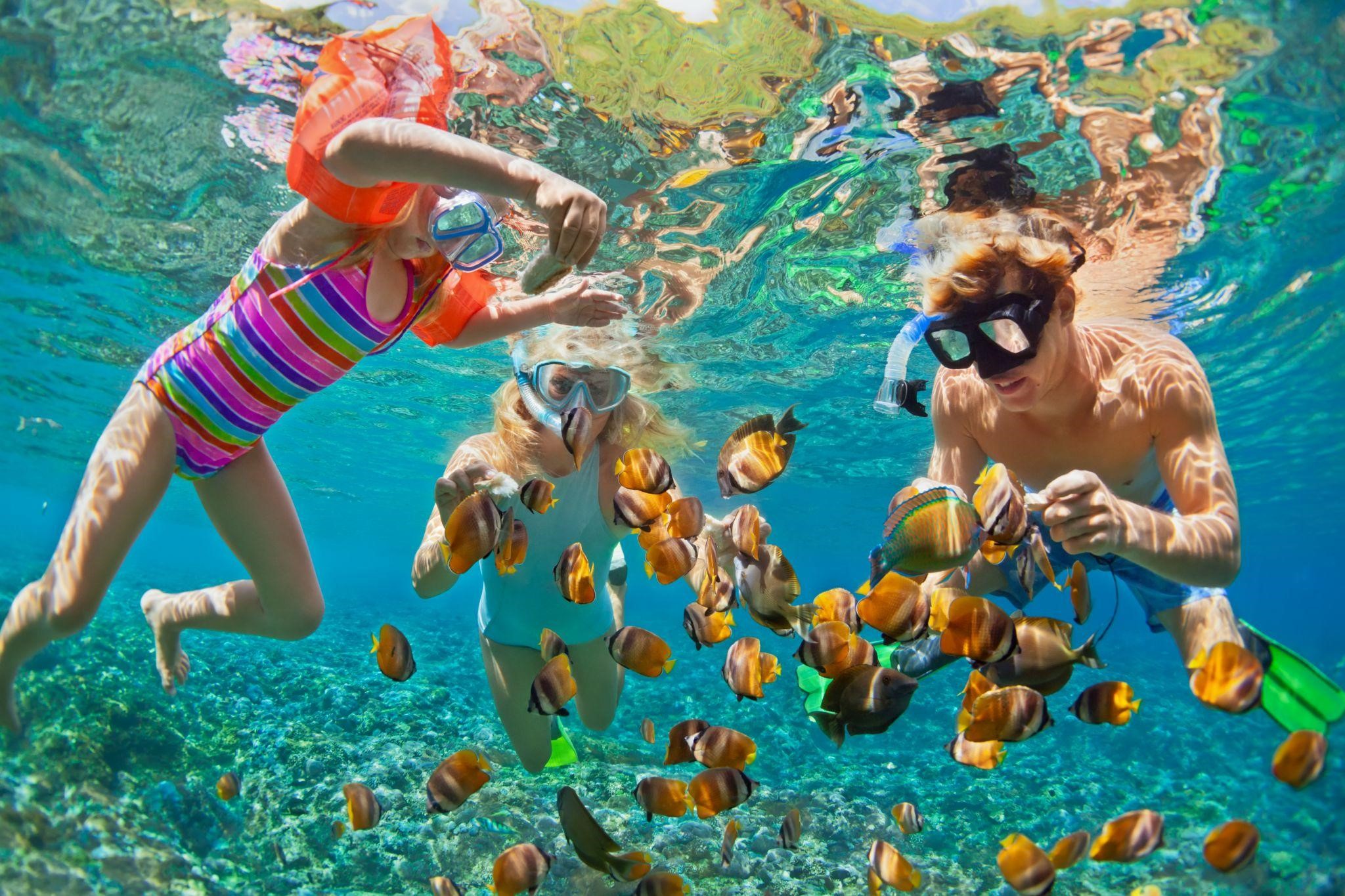 Admiring coral reefs in Phu Quoc.
When visiting Phu Quoc today, tourists can explore many unique and fascinating destinations such as Rach Vem Beach, Bai Dai Beach, Phu Quoc National Park, Ham Ninh fishing village, and numerous small islands such as Hon Thom, Hon Dam, Hon Mong Tay and Hon May Rut.
The southern part of the island is particularly blessed with an extraordinary natural beauty. With its white sand and turquoise waters Bai Khem beach has been named among the world's 50 best beaches by Flight Network – the largest travel site in Canada. Meanwhile, Bai Sao Beach has been voted by readers of Condé Nast Traveller (CN Traveller) as one of the top 10 most pristine beaches in the world, alongside other renowned beaches in Fiji, Maldives, and Australia. Meanwhile, Hon Thom Island boasts the largest coral conservation area in the Phu Quoc archipelago, covering an impressive 9,720 hectares.
Iconic Landmarks
Adding to the island's appeal, Phu Quoc also possesses a number of unique tourist attractions and iconic landmarks. One of the most noteworthy is the Hon Thom Cable Car - the world's longest 3S ropeway, which takes passengers from the center of An Thoi town on the southern tip of Phu Quoc Island over the sea to Hon Thom Island.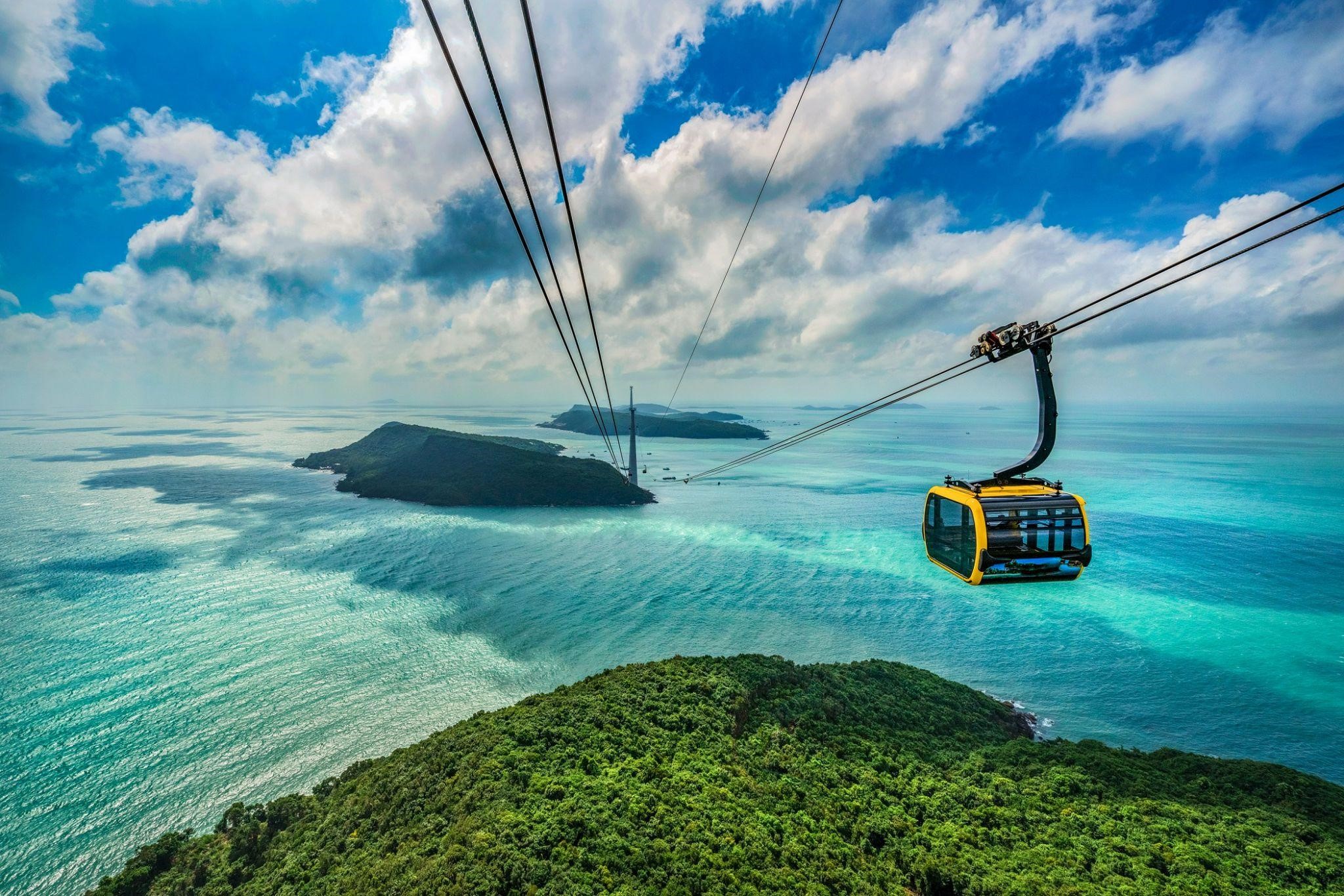 Hon Thom Cable Car, Phu Quoc.
Meanwhile Sunset Town exudes the vibrant colors of the Mediterranean while showcasing its own unique vibe and style with lush green gardens and tropical beauty all around. Described as a new icon of Phu Quoc, Sunset Town also features numerous stunning architectural works and spaces dedicated to art such as the Sun Signature Gallery, which recreates the most distinctive features of the mid-century modern art style while hosting international events, exhibitions and festivals; the Clock Tower, standing at a height of 75 meters, is inspired by the St. Mark's Campanile bell tower in Italy; the King of the Sun is created by sculptural artists from the Frilli Gallery in Italy; or the Central Village is located at the foot of the Clock Tower, featuring the 6-star La Festa Phu Quoc, Curio by Hilton hotel.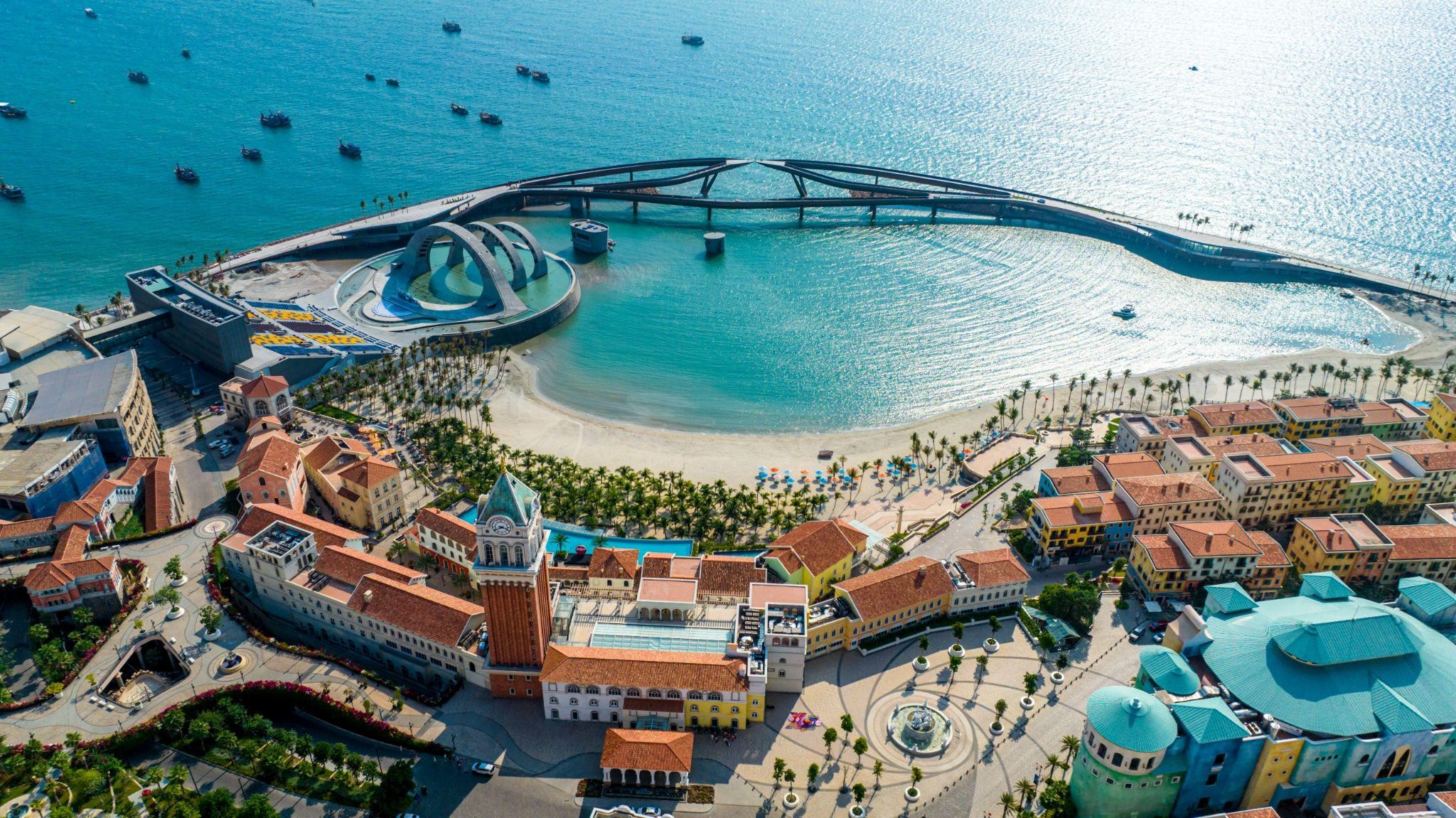 Sunset Town. Credit: Minh Tú
Undoubtedly, the central point of Sunset Town is the Kiss Bridge – a marvelous sculpture with two branches, each 400 meters long, resembling two soft silk ribbons stretching out over the sea. The two spans of Kiss Bridge are not connected but separated by a distance of 30 centimeters, which is the perfect spot to capture the most beautiful sunset during Christmas and New Year. In addition to its unique architectural features, this amazing bridge also carries a message of love and connection between people as well as between humans and the universe.
One of Australia's leading newspaper's The Sydney Morning Herald had high praise for Sunset Town, stating that the town gives visitors the feeling of returning to Italy.
Meanwhile, Mr. Graham Cooke, Founder and President of the World Travel Awards (WTA) commented: "There are many developments in the world. Many developments are happening in Saudi Arabia and in Abu Dhabi, in Europe even, and this really stands in the Premier League of all new developments and has a very good chance of becoming the world's leading new destination."
Exceptional experiences
"Phu Quoc is an emerging destination in Asia. We believe that it will become a global tourism hub," said Graham Cooke. Phu Quoc now boasts a number of world class synchronised tourism ecosystems, especially in the southern of the island.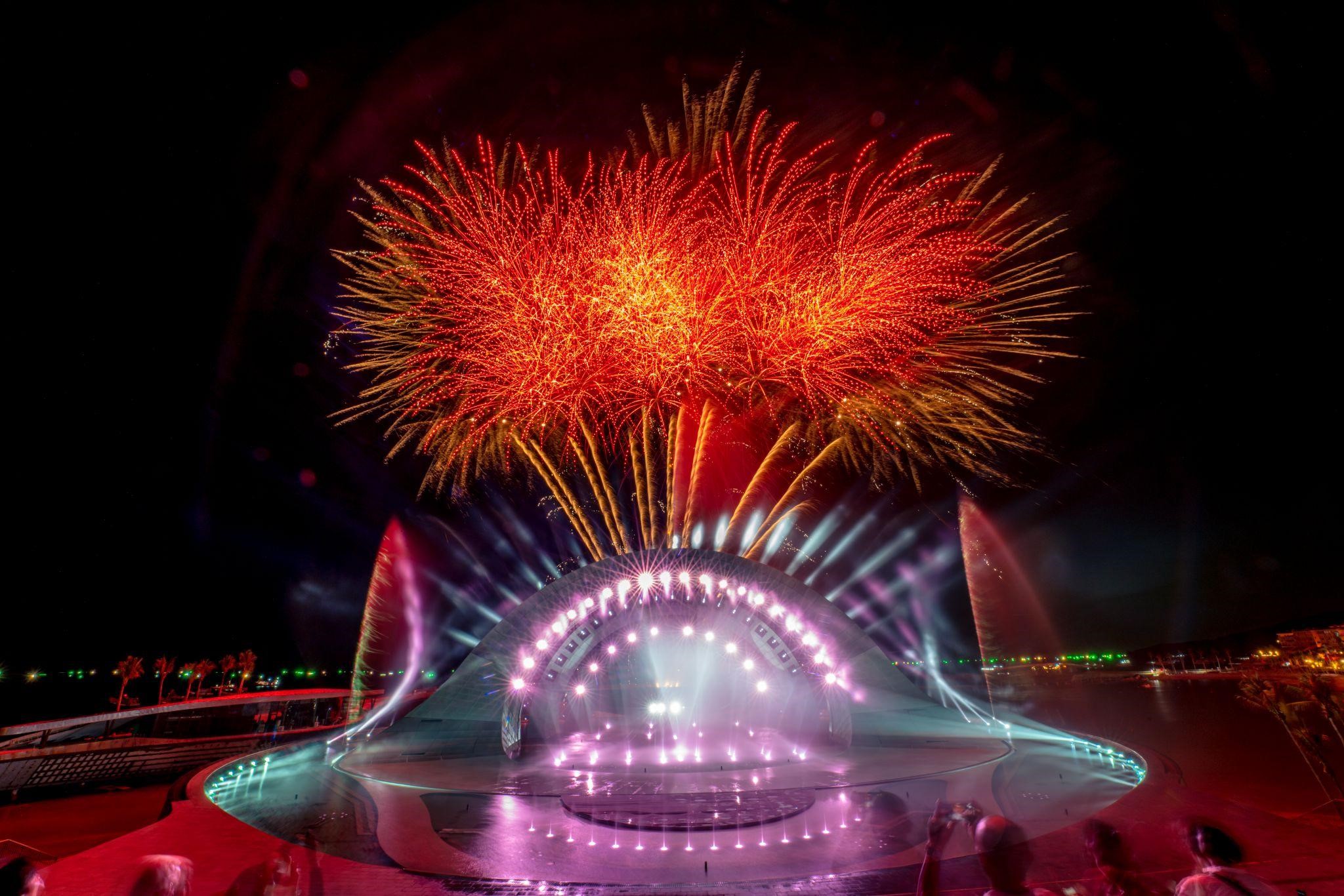 Kiss The Stars - multimedia art show. Credit: Minh Tú.
In particular, Sun World Hon Thom – one of the leading amusement parks in Asia with a host of modern games and rides - and Kiss the Stars – Asia's largest multimedia show operating on seawater, which utilises state-of-the-art technologies - have wowed visitors from all over the world. A number of resorts have also boosted the island's reputation as a destination for luxury travel, namely, JW Marriott Phu Quoc Emerald Bay, Premier Residences Phu Quoc Emerald Bay, New World Phu Quoc Resort, Premier Village Phu Quoc Resort.
In 2019, the Sun Group's JW Marriott Phu Quoc Emerald Bay made headlines in the international media when hosting a glamorous 7-day wedding party for the Indian billionaire Kaabia Grewal and her groom Rushang Shah. At the 2022 World Travel Awards, JW Marriott Phu Quoc Emerald Bay was once again named the "World's Leading Luxury Wedding Resort" for the fourth consecutive year.
In a bid to raise the island's profile on the world tourism map, Sun Group – one of Vietnam's premier developers – has made it a point to partner with some of the giants in the hotel management industry such as Marriott International, Accor Hotels, and Rosewood Hotel Group to manage luxury resorts. For many consecutive years, these resorts have continuously won prestigious awards such as "Asia's Leading Family Beach Resort" for New World Phu Quoc Resort and "Asia's Leading Hotel Residences" for Premier Residences Phu Quoc Emerald Bay.
There has never been any doubt over Phu Quoc's natural beauty but thanks to the shrew development of Sun Group and others, now the island is the complete package which is why the island is on the bucket list of every international traveller.
Facts: From 2016 to 2019, the number of tourists to Phu Quoc increased steeply, reaching nearly 5 million people.
In 2020, while the global tourism industry was "hibernating" due to the pandemic, Phu Quoc still welcomed 3.5 million visitors, surpassing tourist arrivals to Asia's most popular destinations including Phuket in Thailand and the Maldives.
In 2022, Phu Quoc welcomed nearly 5.1 million visitors, a growth of 134% compared to the same period in 2021.
T.Huyền