Troubled trawler rescued at sea
Ship 624 of the Naval Squadron 129 of Saigon Newport Corporation on October 6 safely rescued a troubled trawler with 12 fishermen on board.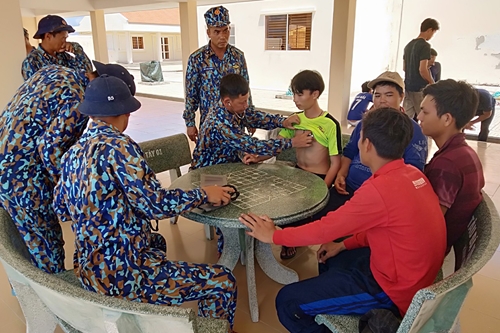 The medical staff of Da Tay Island provide health checkup to the fishermen
Earlier, troubled fishing boat BD 99137 TS, captained by Pham Van Danh from Hoai Hai commune, Hoai Nhon district, Binh Dinh province, was about to sink due to leakages in its deck while fishing at sea.
After receiving the mayday signal, commander of Da Tay Island under the Naval Squadron 129 sent the on-duty ship 624 to the scene for a rescue mission.
On the same day, the rescue ship approached the distressed trawler and gave first aid to 12 fishermen on board, provided food and necessities, and arranged accommodations for them.
Duy Đạt