Truong Sa calendar app. makes debut
The "Truong Sa Calendar" application is now available for free download from the Apps Store and Google Play.
The app. displays a solar and lunar calendar, weather, national festivals and holidays, and information about Vietnam's seas and islands. Users can use iOS and Android operating systems to download the app. from the Apps Store and Google Play.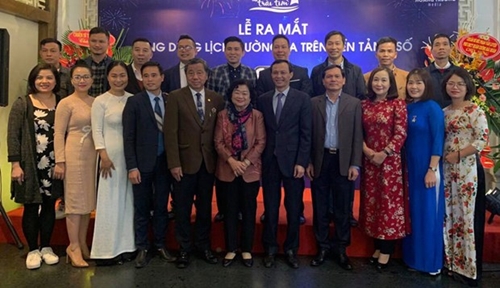 At the launching ceremony of the application
The app. uses images taken by Vietnamese photographers at home and abroad when they visited the Truong Sa (Spratly) archipelago and DK1 platforms.
The app. also has data of islands, national festivals and holidays, the continental shelf, and the concepts of the 1982 United Nations Convention on the Law of the Sea (UNCLOS). Along with that, there are stories, poems, and songs written about seas and islands that are updated on the application to provide users with new experiences and knowledge of seas and islands.
The project has contributed to affirming Vietnam's maritime sovereignty, promoting patriotism and national pride.
Source: EN.QDND