Vietnam attends 5th ASEANSAI Summit in Malaysia
Deputy Auditor General Vu Van Hoa led a Vietnamese delegation to attend the fifth ASEAN Supreme Audit Institutions (ASEANSAI) Summit in Kuala Lumpur, Malaysia on November 6th.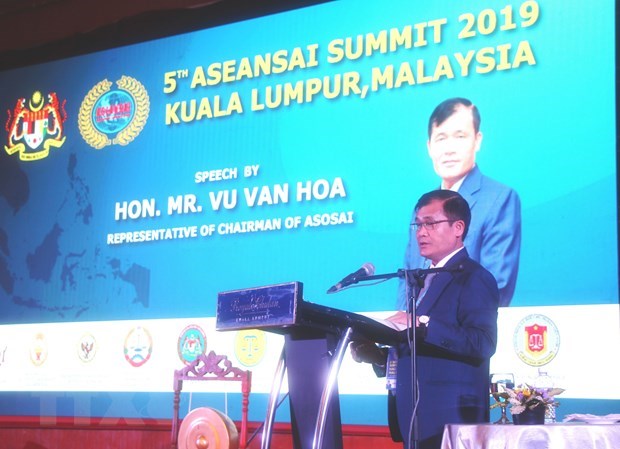 Deputy Auditor General Vu Van Hoa speaks at the event (Source: VNA)
Speaking at the event, Hoa affirmed the State Audit Office of Vietnam will make more efforts and do it utmost to contribute to ASEANSAI's development, considering this as part of the key tasks in its annual activities.
With its role as the Chair of the Asian Organisation of Supreme Audit Institutions (ASOSAI) in 2018-2021 and the ASEANSAI's Committee for Strategic Plan, Vietnam always follows the orientation of the International Organization of Supreme Audit Institutions (INTOSAI), he stressed.
In his opening speech, Malaysian Deputy Prime Minister Wan Azizah Wan Ismail highly valued recent achievements by ASEANSAI, saying that active and effective participation of the organisation's member nations is an evidence for their unrelenting support and strong commitment to strengthening public audit in the region.
Through sharing experience, knowledge, information and good practices, ASEANSAI will continue to make important contributions to the ASEAM Community's development, he said.
ASEANSAI was established on November 16th, 2011, in Bali, Indonesia, with 10 members of SAI being the 10 member states of the Association of Southeast Asian Nations (ASEAN), comprising Brunei, Cambodia, Indonesia, Laos, Malaysia, Myanmar, the Philippines, Singapore, Thailand and Vietnam.
ASEANSAI is expected to encourage and promote good governance within the ASEAN region./.
Đoàn Nguyễn