Visa exemption means international tourists can visit Phu Quoc for up to 30 days
Phu Quoc Island is an ideal choice for travel and long-term relaxation, with a complete visa exemption policy for international visitors, a temporary stay of up to 30 days, a populous and rich nature, and impressive architecture.
Superior visa policy
Phu Quoc is currently the only destination in Việt Nam with a unique visa policy.
According to current legal regulations, from July 1, 2020, foreigners and Vietnamese holding foreign passports entering, exiting, and residing in Phu Quoc island are exempt from visas with a temporary stay period of no more than 30 days.
Foreigners can enter an international border gate of Việt Nam (including air and sea), stay in the transit area at that border gate, and then transfer to Phu Quoc island to be exempt from visas following this regulation.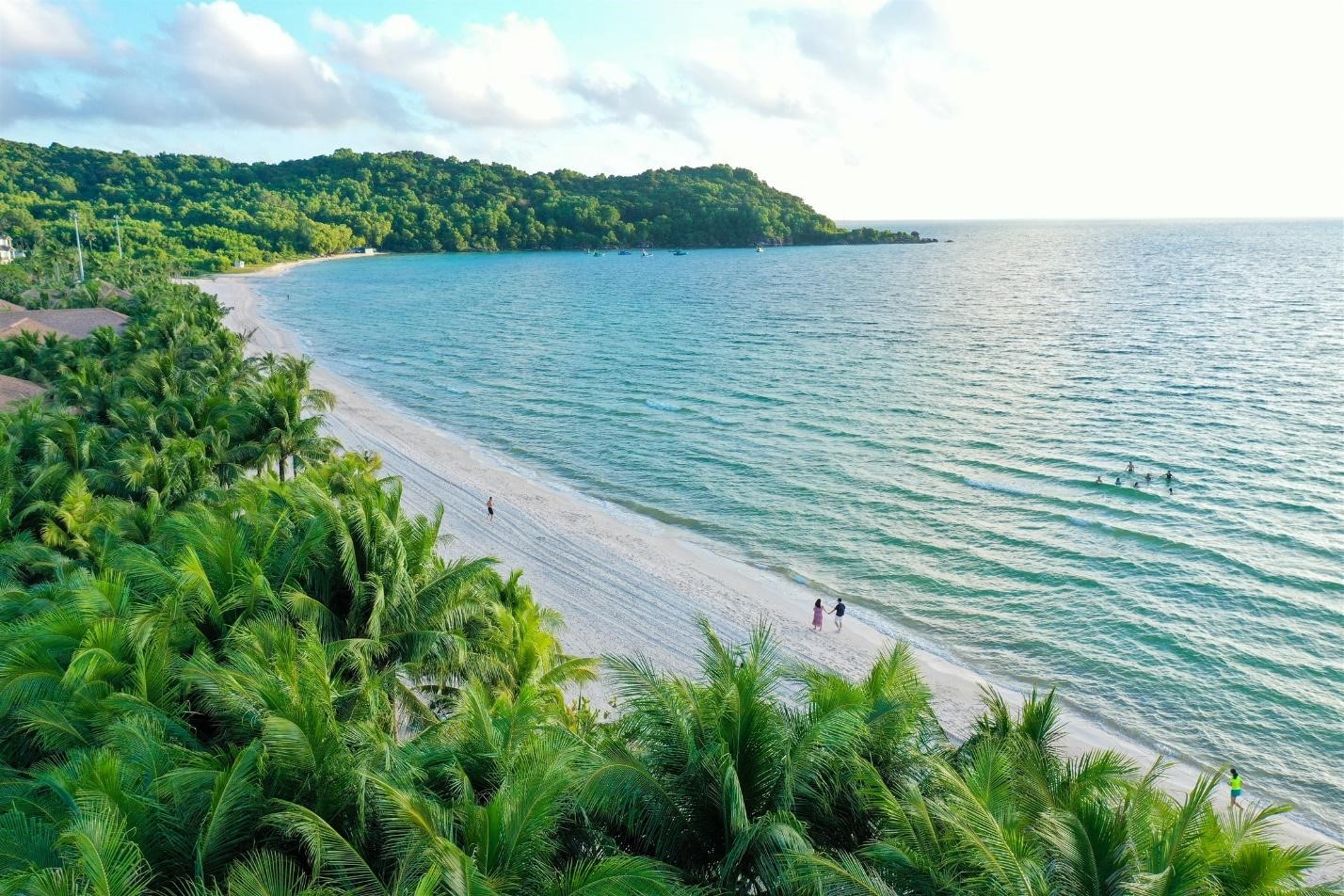 Phu Quoc is famous for its beautiful and dreamlike beaches.
Phu Quoc has its visa policy because it is the only island that meets four conditions of visa exemption for foreigners under Vietnamese law. It has an international airport, is a separate space, has definite geographical boundaries, is separate from the mainland and is consistent with the socio-economic development policy that does not jeopardise Việt Nam's national defense, security, social order, and safety.
As an isolated island located in the Gulf of Thailand, located at southwest of Việt Nam, the means of transportation to Phu Quoc are very convenient with air, sea, and land routes. Tourists visiting this island can enter and exit through three international border gates including Phu Quoc International Airport Border Gate, Ha Tien International Border Gate, and Duong Dong Port International Border Gate, Phu Quoc.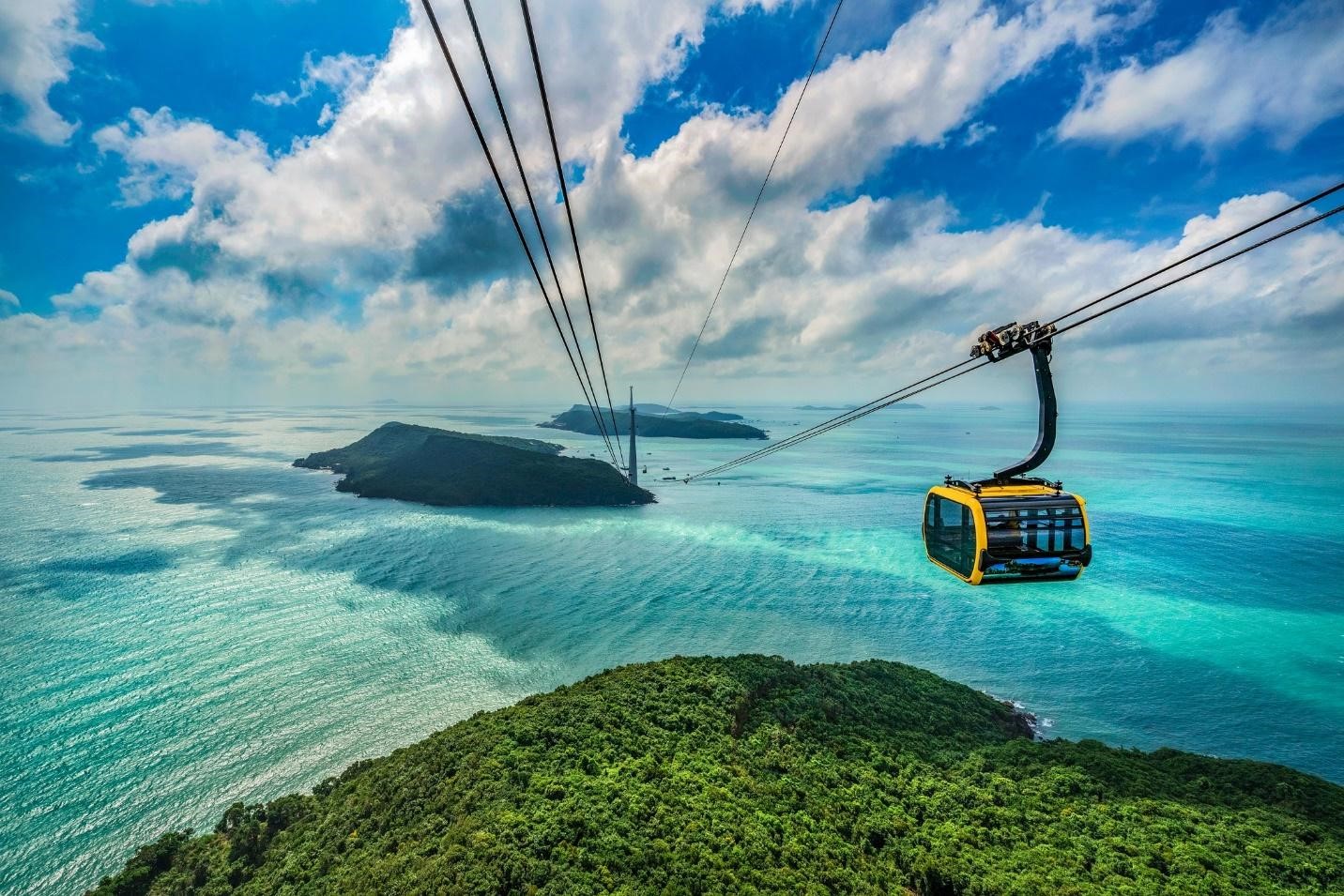 Hon Thom, the world's longest cable car, is in the South of Phu Quoc island.
Currently, many international routes with multiple daily flights operate in Phu Quoc, including India, Korea, Thailand, and Malaysia. Many other countries continue to research and open flight routes to Phu Quoc. Transportation on the island is also extremely convenient. Tourists can easily travel by tax and bus or experience the Duong Dong - An Thoi bus and vice versa. In particular, tourists who have purchased tickets to Sun World Phu Quoc will receive free bus tickets for Duong Dong - An Thoi route.
Attractive nature, with many impressive architectural works
Phu Quoc is a favourite destination for tourists all over the world.
Tourists visiting pearl island will enjoy the fresh air with warm sunshine all year round and explore the rich and dreamlike island paradise.
These are the beaches listed as the "most beautiful on the planet," with fine white sand and limpid water to the bottom, such as Bai Kem and Bai Sao; the small islands of An Thoi archipelago, such as Hon Thom, Hon May Rut, Hon Mong Tay, and Hon Dam Ngang with pristine beauty, diverse marine - forest ecosystems, colourful coral reefs or amazing rocky cliffs.
There are also romantic sunsets when the sun dyes the ocean red on the island's southwest coast, or the end point of Ong Doi Cape - a "one of a kind" place where tourists can watch the sunset and sunrise at the same place.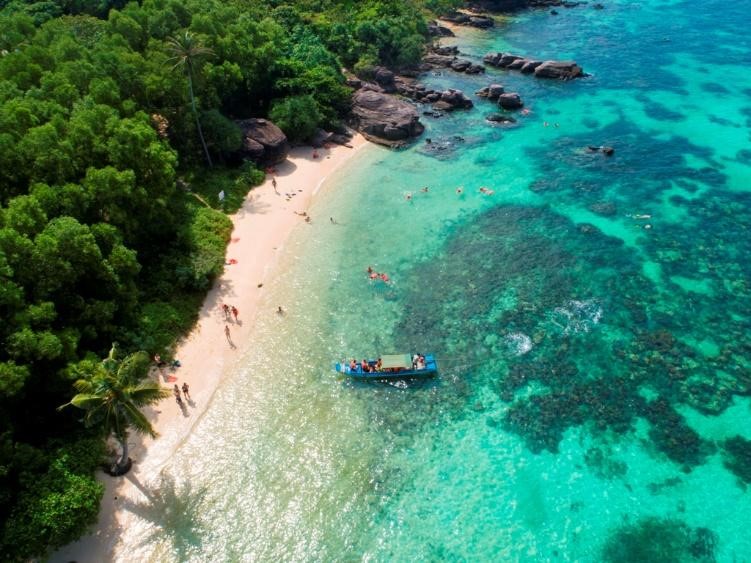 The attractive natural beauty of the An Thoi archipelago of Phu Quoc captivates tourists.
As well as freely exploring the sea and islands with many appealing activities such as swimming on the beach, kayaking, diving and seeing coral, canoeing around the islands, and night squid fishing, tourists visiting Phu Quoc also discover the unique indigenous culture, the world of products, rich and fresh cuisine such as pepper, seafood, Phu Quoc fish sauce; visiting many historical sites such as Phu Quoc Prison, and Dinh Cau tourist attraction.
Possessing a rare natural beauty, Phu Quoc is compared to well-known tourist paradises such as Maldives, Phuket (Thailand), and Bali (Indonesia).
In 2022, Phu Quoc was named "the world's most attractive natural island" at the World Travel Awards ceremony, surpassing six destinations from other continents, including many islands that were once known as paradises like Zanzibar of Tanzania or Lofoten of Norway.
Previously, the world-famous travel magazine Condé Nast Traveler announced the list of 35th Readers' Choice Awards, with Phu Quoc being the only Vietnamese representative to be honoured as one of the "Top 10 most loved islands in Asia".
Phu Quoc also won many titles, such as the 25 most beautiful islands in the world in 2022 by Travel + Leisure or the 15 best islands for retirement, voted by International Living.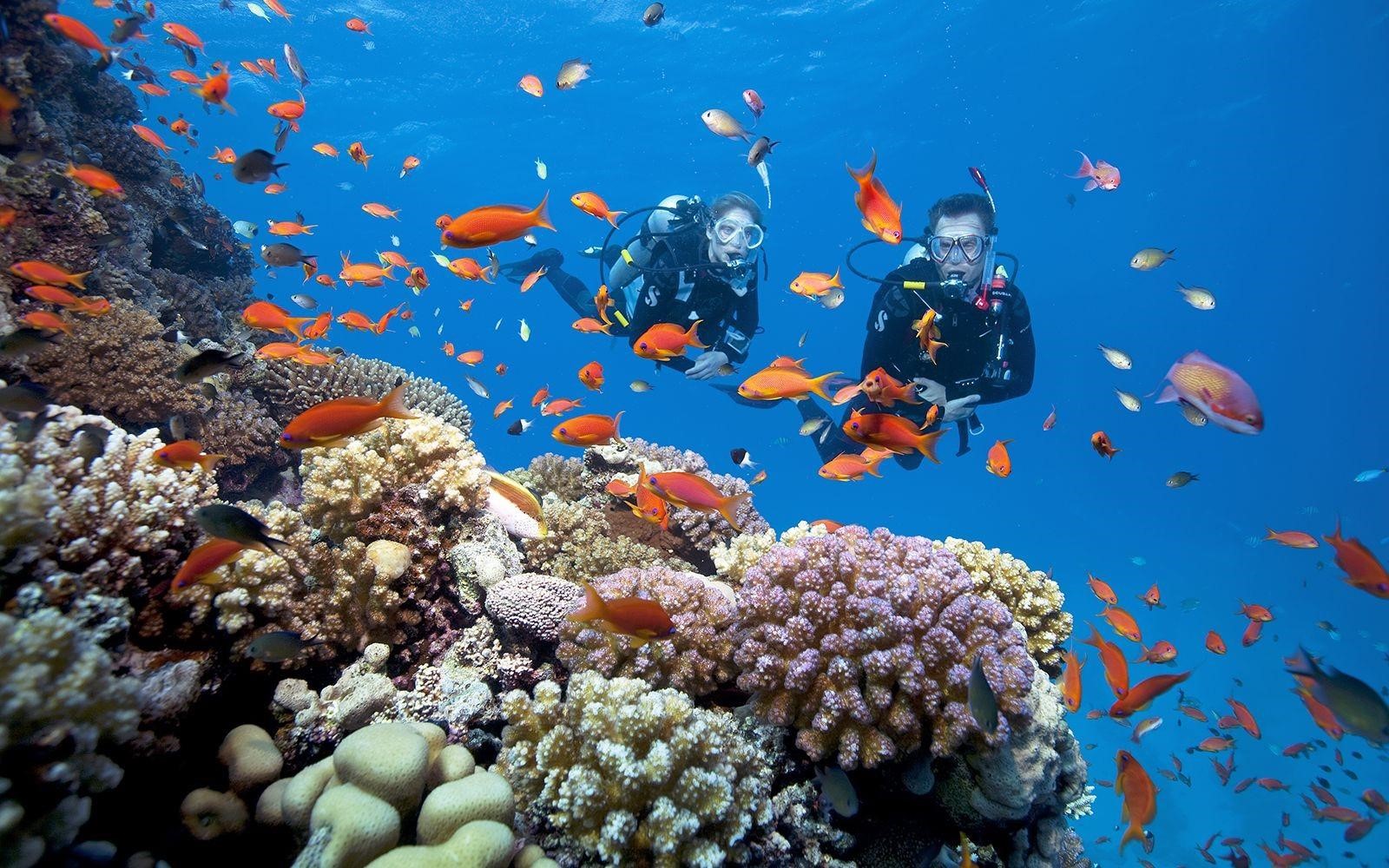 The diverse and rich marine life of Phu Quoc.
In addition, Phu Quoc also gathers world-class works honouring architectural art and culture, such as Sunset Town, Asia's largest show of multimedia technology on the water - Kiss The Stars, Sun Signature Gallery architectural art "museum", luxury resorts with impressive architecture such as JW Marriott Phu Quoc Emerald Bay Resort, New World Phu Quoc Resort, Premier Village Phu Quoc Resort, Sun World Phu Quoc beach entertainment complex with the world's longest cable car.
All of these works blend the quintessence of human architecture with indigenous culture, and they have been constructed in harmony and sophistication with the nature of Phu Quoc.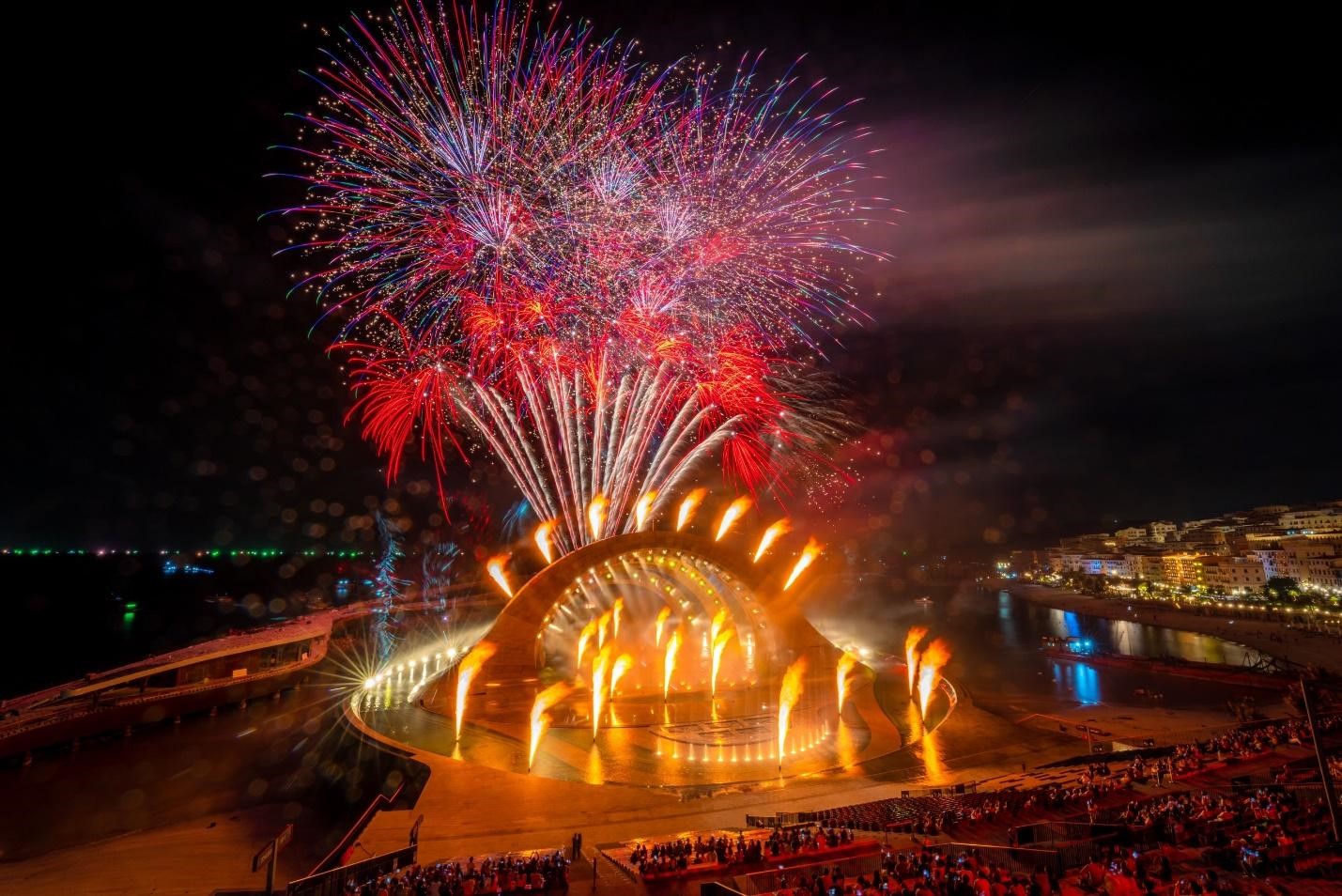 Asia's largest show of multimedia technology on the water - Kiss The Stars.
Tourists visiting Sunset Town in the South of the island will be able to witness with their own eyes, check-in at the Kiss Bridge in the middle of the ocean. With unique architecture created by the collaboration between Sun Group and famous architect Marco Casamonti, honouring the value of love and friendship, Kiss Bridge will be a symbolic work for limitless connection. It will soon be included in the world's most famous bridges list.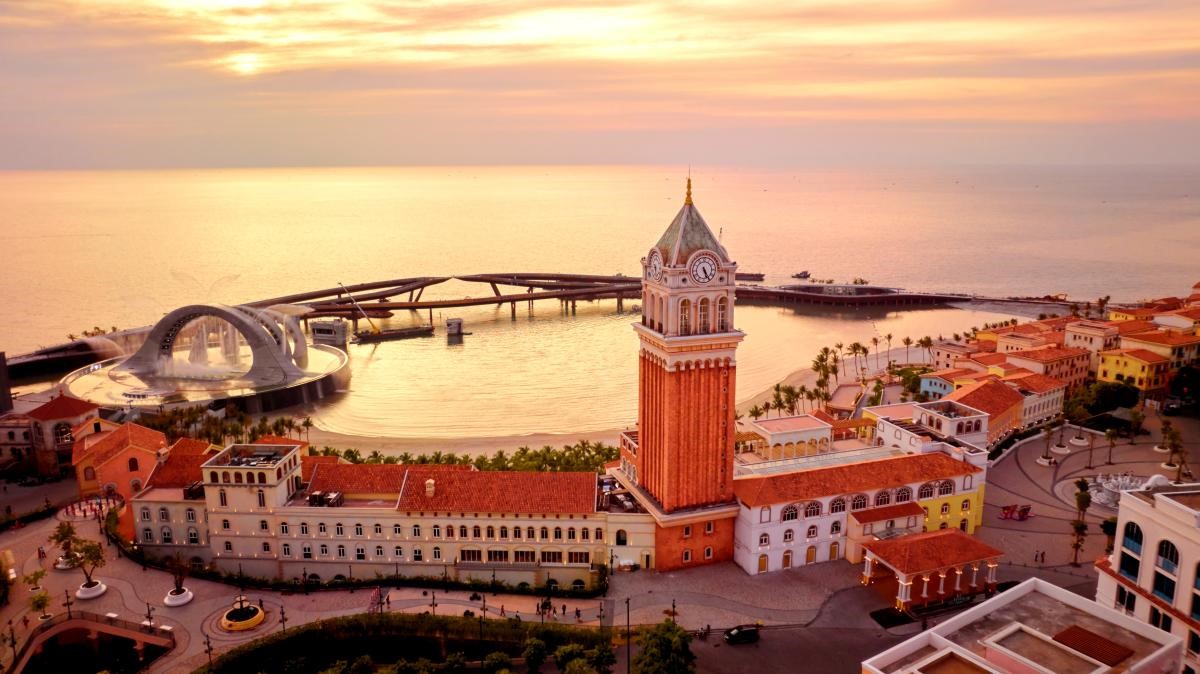 Impressive and worthy of admiration architectural works of Phu Quoc pearl island.
With a superior visa policy that creates maximum convenience for international tourists, amazing nature, rich culture, friendly and warm people, and impressive architectural works, Phu Quoc is on its way to becoming the world's new destination.
This island deserves to be the ideal choice for long-term vacations, lavish weddings of the global elite, programs, MICE activities, and international events.
T.Huyền