Discovering Thai Binh province's cultures in Hanoi
The Vietnam Museum of Ethnology has coordinated with the northern Thai Binh provincial Department of Culture, Sports and Tourism to organize a spring program to help visitors discover its culture nuances.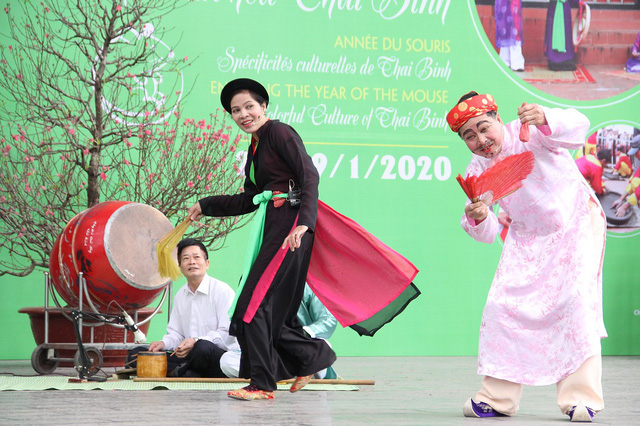 Artisans from Thai Binh province put on a Cheo performance
Diverse activities related to lunar new year such performances praying for good things and calligraphy were held.
Visitors also experienced making Dong Ho pictures with the desire for a harmonious family, a life of abundance, comfort, fullness and happiness. Children chose to paint animals that are closely related to the age of their family members, as well as print Dong Ho folk paintings of mouse weddings or sculpting with rats to celebrate the Year of the Rat.
Folk games such as swinging, tug of war, catching chums in jars and pao throwing took place at the museum.
Dr. Dang Xuan Thanh, Director of the Vietnam Museum of Ethnology, said through the annual programme, the museum would like to create opportunity for visitors to explore traditional culture of the lunar new year as well as the specific cultures of different regions. Especially, this is also an opportunity for cultural subjects to introduce their own unique cultural identities, making an important contribution to raising the awareness of preserving and promoting the traditional cultural values through generations.
Following are photos about the program:
Activities at the Vietnam Museum of Ethnology (Source: toquoc.vn)
Theo dangcongsan.vn