Online dialogue on office culture to take place in Hanoi
An online dialogue titled "Office culture: Situation and solutions" will take place at the Communist Party of Vietnam (CPV) Online Newspaper in Hanoi at 08h30 on November 27th.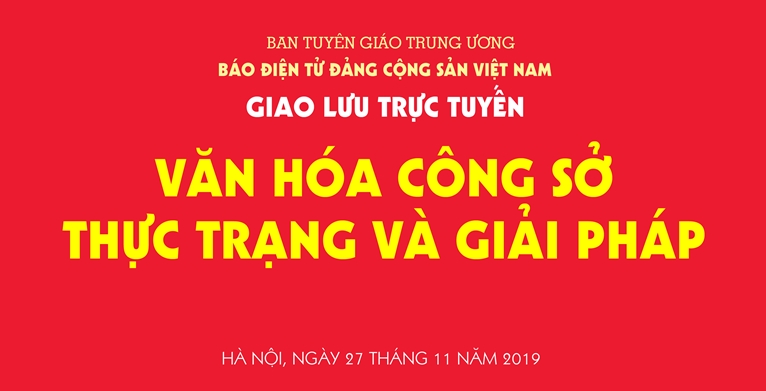 Online dialogue on office culture to take place in Hanoi
The event (at No.381 Doi Can street, Ba Dinh district) will draw the participation of guests from the PCC's Commission for Popularization and Education, the Ministry of Home Affairs, the Ministry of Culture, Sports and Tourism, Vietnam General Confederation of Labor and Vietnam Writers' Association.
It aims to help readers see the current situation of office culture in current agencies and units, as well as the need to improve the office culture for each cadre and civil servant in carrying out their duties and responsibilities in the new situation.
The activity will contribute to disseminate more than 20 years of implementing the Resolution of the 5th plenum of the 8th PCC of the CPV (July 16th, 1998) on building and developing an advanced Vietnamese culture imbued with national identities; 5 years of Resolution 33-NQ/TW on July 9th, 2014 of the 9th plenum of the 11th PPC of the CPV on building and developing Vietnamese culture and people meeting requirements for national sustainable development; Decision 1847/QD-TTg on office cultural projects approved by the Prime Minister on December 27th, 2018, and the Prime Minister's Decision 733/QD-TTg on June 14th, 2019 on the issuance of the Plan to implement emulation movement "Officers and civil servants emulate to perform office culture" in the 2019 - 2025 period.
The event will focus on following these main contents: the current situation of office culture; negative impacts on office culture; solutions to improve office culture, measures to overcome shortcomings of current office culture; and the significance of disseminating office culture and its application to the practice of branches, localities, agencies and units, contributing to bringing the Party's resolutions and State policies into life./.
Source: BTA
Đoàn Nguyễn