Vietnam's L2FH Rotation 1 completes peacekeeping missions
After completing their peacekeeping mission in South Sudan, the first troops of the Level-2 Field Hospital (L2FH) Rotation 1 of Vietnam returned home on the evening of November 21.
A ceremony to welcome them was held at Tan Son Nhat International Airport in Ho Chi Minh City by the Vietnam Department of Peacekeeping Operations (VNDPKO), Military Hospital 175, and relevant units.
The event saw the presence of Lieutenant General Nguyen Tan Cuong, Deputy Chief of the General Staff of the Vietnam People's Army, leaders of the VNDPKO, representatives from military units under the Ministry of National Defense, Commands of Military Region 7 and Army Corps 4, Military Hospital 175, along with international delegates and relatives of L2FH Rotation 1's personnel.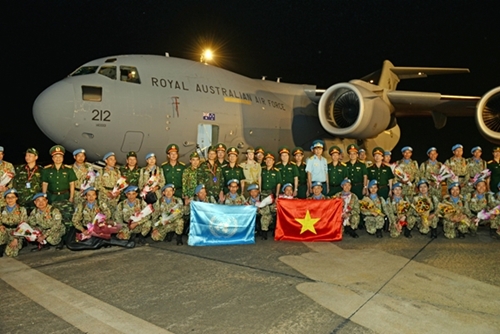 At the home-welcoming ceremony
General Cuong presented flowers to and wished good health to each of the 31 members of the L2FH Rotation 1. He lauded their success at the United Nations Peacekeeping Mission in South Sudan, saying that they have contributed to promoting Vietnam's diplomatic relations and defense cooperation with other countries and to confirming Vietnam's prestige and high sense of responsibility in participating in UN peacekeeping operations and other international missions.
After the welcoming ceremony, the hospital's personnel were arranged accommodation at Military Hospital 175 before undertaking new assignments.
The remaining personnel of the hospital in South Sudan will arrive back in Vietnam on the evening of November 28.
Translated by Mai Huong
Đoàn Nguyễn