Border unit requested to better orientation of troops' thought
PANO - A mission from the General Department of Politics of the Vietnam People's Army, led by its Deputy Director Senior Lieutenant General Do Can, inspected the performance of Party and political work of the Lao Cai provincial Border Guard Command on November 5.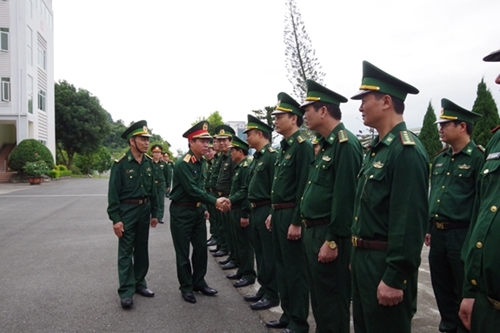 The defense mission visiting the Lao Cai provincial Border Guard Command​​​​​​​
After hearing reports and checking the unit's task performance, General Can acknowledged and applauded the unit's achievements in the work this year. He also pointed out shortcomings that need to be fixed in the time to come.
General Can asked the unit to concentrate on improving training quality, seriously observing combat readiness regulations, safeguarding the national border sovereignty and security, and effectively preventing crimes.
They were also requested to promote the observance of military discipline and State law and better carry out the political education work and orientation of troops' thought.
Besides further coordinating with relevant local forces and giving recommendations to local authorities to firmly defend the national border sovereignty, the unit should effectively implement the border external relations and people-to-people diplomacy and mark the 30th anniversary of the Whole People's Border Day.
General Can also suggested the unit support local people in socio-economic development and poverty reduction and hunger elimination.
As part of the visit to Lao Cai province, General Can encouraged troops of the Border Post of Lao Cai International Border Gate and presented gifts to two needy students supported by the post.
Đình Long