Defense Minister works with General Staff
Defense Minister General Phan Van Giang had a working session on January 30 with the General Staff on task accomplishment in 2022 and the implementation of military and defense missions in 2023.
During the working session, Deputy Chief of the General Staff (GS) Senior Lieutenant General Huynh Chien Thang reported to General Phan Van Giang and leaders of the Ministry of National Defense (MND) on the results of the GS's task implementation in 2022 and key tasks in the time to come.
General Phan Van Giang addresses the meeting.
Particularly, in 2022, the General Staff directed the whole military to fulfill all military and defense missions, especially thoroughly grasp situation and give recommendations to the Central Military Commission and the MND to deal with any circumstance in a timely manner.
Last year, the whole military strictly maintained combat readiness posture and firmly managed and protected the airspace, sea, border, inland, and cyberspace while effectively implementing education and training programs, organizing exercises, and training forces participating in domestic and international competitions.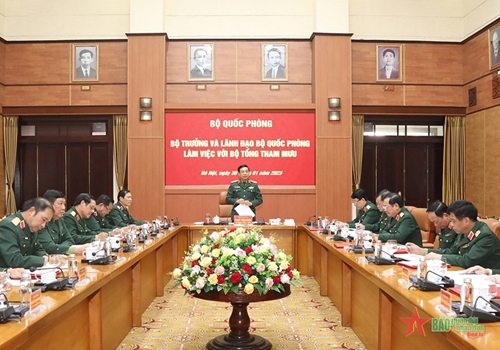 An overview of the working session
The GS's forces and vehicles stayed ready to support localities in natural disaster prevention and control, and search and rescue operations. Also, it effectively implemented defense external and international cooperation activities in accordance with the MND's plans.
Speaking at the working session, General Phan Van Giang applauded the great efforts and remarkable achievements obtained by the General Staff over the past time, especially in maintaining combat readiness, raising the training quality, and building a comprehensively-strong, exemplary and typical unit.
The defense minister asked the GS to closely follow the Resolution of the Central Military Commission on leadership over military and defense tasks and the building of Military Party Organization in 2023 and a directive on military and defense missions in 2023, so as to direct the whole military to obtain higher results this year.
The GS should focus on raising the quality of forecasting and evaluating the situations so as to make accurate recommendations to higher levels to deal with circumstances in a timely and effective manner. It should continue maintaining combat readiness posture and closely coordinating with other forces to ensure safety for important national events.
In addition, the General Staff should strengthen training work at night, carry out rehearsals, as well as national, regional and international competitions and sports festivals. It should direct units to accelerate the production and maintenance of weapons and equipment and focus on directing the building of comprehensively-strong and exemplary units.
General Phan Van Giang also urged the agency to raise the quality of education and training for militia force and actively develop plans and prepare vehicles and personnel to respond to natural disasters, diseases, and implement search and rescue missions, to name but a few.
Translated by Quynh Oanh
Source: PANO