Fallen soldiers reburied in Ha Giang
A memorial and burial service was held on May 9 at Vi Xuyen War Cemetery in Ha Giang province for seven sets of remains of soldiers who laid down their lives on Vi Xuyen battlefield during the war to protect the Northern border.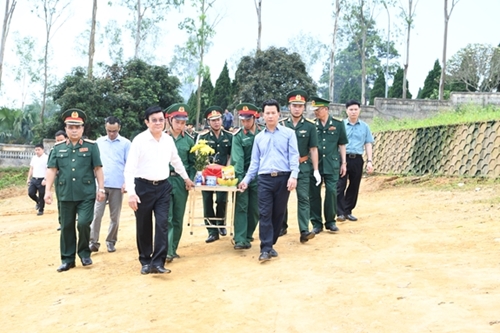 At the burial service to fallen soldiers.
The event was attended by former Politburo member and State President Truong Tan Sang, Deputy Minister of National Defense Senior Lieutenant General Le Chiem, Commander of Military Region 2 Major General Pham Hong Chuong, Secretary of the provincial Party Committee Dang Quoc Khanh, Chairman of the provincial People's Committee Nguyen Van Son, war veterans, and local people.
The sets of remains were found and collected in April in Giang Nam hamlet, Thanh Thuy commune, and Vi Xuyen district by the provincial Military Command's martyrs remain search and collection team. They have yet to be identified.
At the ceremony, participants offered incense and laid wreaths to express their deep gratitude to the fallen soldiers. They were all reburied in Vi Xuyen War Cemetery.
Theo qdnd.vn