CMC's meeting clarifies documents on directives on Party congresses
The Standing Committee of the Central Military Commission (CMC) held a conference on November 11 to clarify the contents of the Politburo's and the CMC Standing Committee's directives on the upcoming Party congresses at all levels, toward the 13th National Party Congress.
The event was chaired by Minister of National Defense General Ngo Xuan Lich and attended by Chief of the General Department of Politics General Luong Cuong, Deputy Head of the Party Central Committee's Commission for Organization Mai Van Chinh, and defense leaders, among others.
Delivering opening remarks, General Lich affirmed the importance of the conference and urged delegates to focus their attention on embracing all of the contents of the documents from higher levels, especially the new requirements for the coming Party congresses. General Lich also requested participants to actively discuss and point out difficulties and recommend approaches for the CMC Standing Committee to ensure the success of the congresses.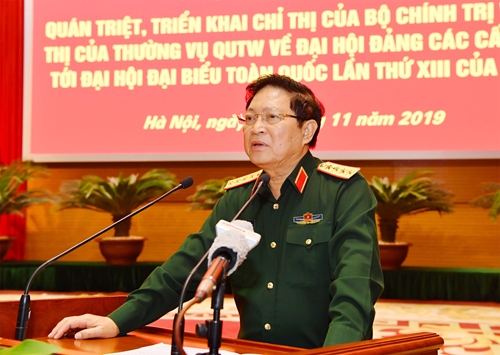 General Ngo Xuan Lich addresses the event.
He added that the Party congresses at all levels should clarify the firm political stance and development of the Vietnam People's Army under the leadership of the Party as well as the determination to build a revolutionary, regular, elite, increasingly modern military which is absolutely loyal to the Party, Nation, and People. They should also demonstrate the solidarity in the Military Party Committee and the whole military, so as to contribute to the success of the upcoming National Party Congress.
At the conference, General Cuong introduced to the delegates Directive 35 of the Politburo and Directive 747 of the CMC Standing Committee on Party congresses at all levels in the military. He focused on key points and new contents in those documents.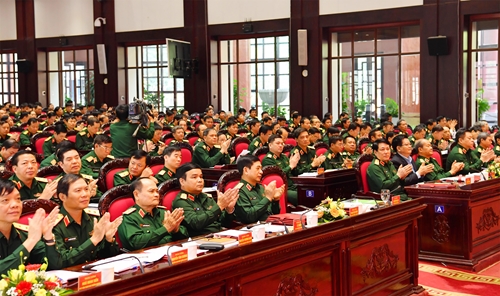 Delegates at the event
Meanwhile, Senior Lieutenant General Tran Quang Phuong, Deputy Chief of the General Department of Politics, presented in details the general department's documents and focused on the preparations for the upcoming events. Major General Pham Duc Nguyen, Standing Deputy Director of the Inspection Committee of the Central Military Commission, talked about the unit's guidance on inspection and supervision over preparations for the coming events.
Concluding the conference, the defense minister asked leaders of agencies and units to hold meetings to help their personnel grasp documents related to their units' Party congresses and heighten their revolutionary vigilance to combat all schemes and sabotage plots of hostile forces.
Lich emphasized the need to strengthen the Party's leadership over preparations of the congresses, especially the list of candidates for the Party committees for the 2020-2025 term. He said that reports at congresses should focus on defense, security, and Party building missions.
Đình Long