Defense Minister inspects construction of Military Cinema's HQs
General Ngo Xuan Lich, Politburo member, Deputy Secretary of the Central Military Commission (CMC) and Minister of National Defense, inspected the construction of the headquarters of the People's Army Cinema on January 2.
The delegation also included General Luong Cuong, Permanent Member of the Central Military Commission and Director of the General Department of Politics of the Vietnam People's Army (VPA); Lieutenant General Le Hien Van, Deputy Director of the VPA's General Department of Politics; and representatives from other relevant agencies and units of the Ministry of National Defense.
During the visit, General Lich was briefed on the construction's progress. Accordingly, since May 2019, the ground clearance has been completed.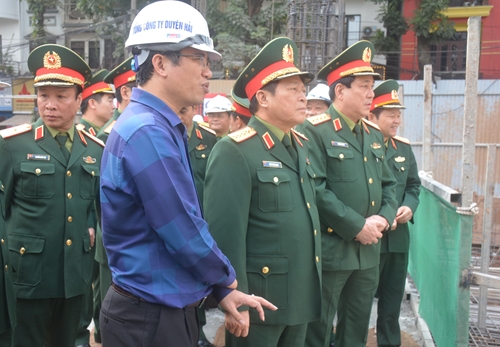 General Ngo Xuan Lich inspects the construction of the headquarters of the People's Army Cinema
As scheduled, contractors will finish building the basement in the first quarter of 2020. Meanwhile, the project is expected to be completed in the fourth quarter of this year.
After inspecting the construction site, General Lich hailed outcomes of the contractors. He also asked relevant agencies to create favorable conditions for the contractors while strictly observing safety at work, ensuring absolute safety for people, vehicles and equipment.
In addition, the Defense Minister urged relevant units and agencies to regularly follow the construction progress so as to use proper resources for the construction.
Moreover, the contractors should try their best to ensure that the structure is inaugurated and put into operation as planned, becoming one of the key projects to welcome the 11th Military Party Congress.
Theo qdnd.vn