NA Chairwoman meets with commando veterans
National Assembly Chairwoman Nguyen Thi Kim Ngan held a meeting with a delegation of commando veterans in Hanoi on December 16.
Addressing the event, the NA Chairwoman expressed her delight at the delegation's visit to Hanoi and to the National Assembly HQs on the occasion of the 75th founding anniversary of the Vietnam People's Army (VPA) and the 30th Whole People's Defense Festival (December 22), as well as the 53rd founding anniversary of the Commando Corps.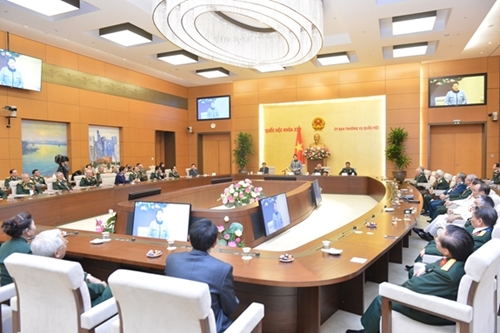 At the meeting
"This activity upholds the tradition of the Commando Corps, and at the same time reflects the sentiment and gratitude of commando troops toward the veterans' generations. The meeting is an opportunity for us to review the glorious tradition of the Vietnam People's Army in general, and the Commando troops in particular, and to pay tribute to and glorify the contributions and sacrifices of the whole people and soldiers during the resistance war for national independence, freedom, and reunification," she said.
She affirmed that the Party, State, and people always respect and highly value the great contributions and sacrifice of the veterans, especially the commando troops, during the past resistance wars for national liberation and protection cause.
Over the past 53 years, generations of troops of the Commando Corps have constantly kept in mind Uncle Ho's teachings to make a lot of glorious victories. The unit has been constantly developing and always striven to fulfill its assigned tasks in the past and in the current cause of national construction and defense.
With the glorious achievements, the Commando Corps was honored with the title of Hero of the People's Armed Forces, the First-class Military Exploit Order, and the 16-golden words.
Promoting the revolutionary tradition after completing their missions, the commando veterans have continued to make great contributions to the cause of national construction, restoration, and development in the current context.
On behalf of the Party and State leaders, NA Chairwoman acknowledged and highly praised the achievements obtained by the troops of the Commando Corps over the past years.
She hoped that the Vietnam Veterans' Association, especially the commando veterans, promote their firm political stance to maintain the nature and tradition of Uncle Ho's soldiers, continue building the Party and State, and protect the Socialist Republic of Vietnam, deserving to be a firm reliance for the Party, State, and people.
Theo en.qdnd.vn