Refresher course on border management for Lao troops closes
The Nghe An provincial Border Guard Command held a ceremony on November 22 to conclude a refresher course on border management for troops from Laos' Xiangkhouang provincial Military Command.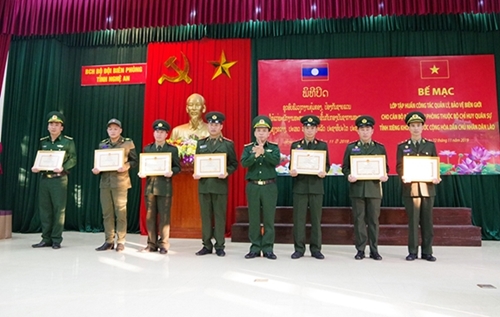 Outstanding officers receive certificates of merit.
During the month-long course, Lao officers studied political contents, border management skills, line-up regulations, and Vietnamese language. They also participated in different physical activities to keep their fitness.
Trainees also visited landscapes in Nghe An province and had experience sharing and sport exchanges with troops of the Vietnamese provincial Border Guard Command.
The organizer evaluated that during the course, 30 troops from the Xiangkhouang provincial Military Command had excellently completed the training program despite unfavorable weather conditions and language barriers.
At the closing ceremony, the Nghe An provincial Border Guard Command handed over certificates of merit to seven outstanding Lao trainees and certificates to 30 officers of the Lao unit.
Translated by Tran Hoai
Đoàn Nguyễn